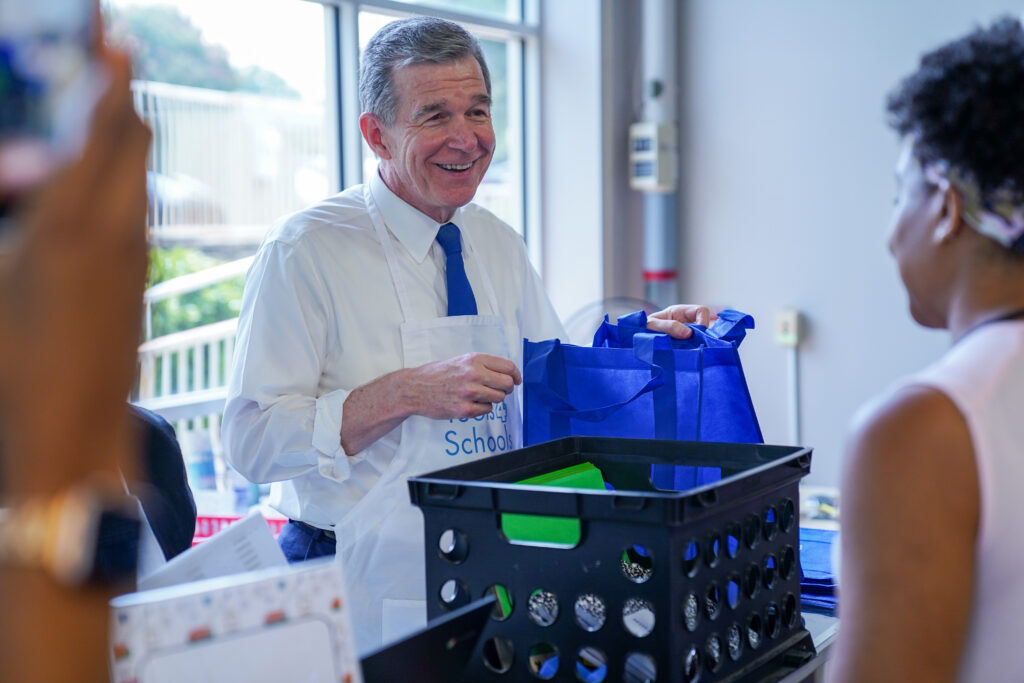 Repost from Governor Cooper's Press Office
Governor Roy Cooper visited Tools4Schools, a classroom supply store operated by WakeEd Partnership that provides free school supplies to Wake County Public School teachers. The Governor toured the store, spoke with volunteers and teachers and assisted in bagging supplies for teachers. 
"This is important to help ease the burden for our state's hardworking and dedicated public school teachers who often spend hundreds of dollars out-of-pocket for classroom supplies each year," said Governor Cooper. "As schools come back into session, the legislature needs to pass the budget to give educators overdue raises and make meaningful investments in our public schools." 
"The lack of adequate state funding for school supplies is just one of the many areas where our public school students are being shortchanged and it's teachers who have been picking up the slack buying classroom supplies out of their own pockets to the tune of more than $900 a year," said Keith Poston, President, WakeEd Partnership. "Thanks to the generosity of this community, we were able to open Tools4Schools last year and have already given away more than $340,000 in new school supplies to ensure that all teachers and students have the supplies they need to focus on learning. This community believes in our public schools and they're showing it by directly supporting our teachers and students with their generosity in donating to Tools4Schools. 
"Tools4Schools opened its doors in January 2022 to provide free classroom supplies for nearly 11,000 teachers in North Carolina's largest school district, ensuring that all students and teachers in the Wake County Public School System have the supplies they need to focus on learning. During the 2022-2023 school year, Tools4Schools provided school supplies to 4,000 teachers. In a survey conducted by WakeEd last year, Wake County teachers reported spending an average of $926 out of their own pockets for classroom supplies for their students. 
All Wake County public school teachers can return to the shop once per quarter to pick up name-brand, high quality school supplies for their classrooms free of charge.  
North Carolina schools currently have more than 5,000 teacher vacancies. Recruiting and retaining quality teachers to the classroom is harder than ever and low pay is a big reason why. Governor Cooper's budget proposed an 18% pay raise over two years, which would make North Carolina first in the Southeast in teacher pay.